QuickSwitch™ Users' Manual
Stand Alone, Inc.


Table of Contents
1 Welcome
&nbsp1.1 Included Files
&nbsp1.2 System Requirements
&nbsp1.3 Registering QuickSwitch™
&nbsp &nbsp1.3.1 How to Register
&nbsp &nbsp1.3.2 Necessary Information
&nbsp &nbsp1.3.3 Entering the Registration Code
&nbsp1.4 Contacting Stand Alone, Inc.
&nbsp &nbsp1.4.1 Business Hours
&nbsp &nbsp1.4.2 Email
&nbsp &nbsp1.4.3 Phone
&nbsp &nbsp1.4.4 Regular Mail
&nbsp &nbsp1.4.5 World Wide Web
&nbsp1.5 Reporting Problems
2 Installing QuickSwitch™
3 Using QuickSwitch™
&nbsp3.1 QuickSwitch™ Basics
&nbsp3.2 Configuring QuickSwitch™ Buttons
&nbsp &nbsp3.2.1 Adding Applications
&nbsp &nbsp3.2.2 Removing Applications
&nbsp &nbsp3.2.3 Reordering Applications
&nbsp &nbsp3.2.4 Disabling a button
&nbsp &nbsp3.2.5 Confirming your changes
&nbsp3.3 Enabling/Disabling QuickSwitch™
&nbsp3.4 Using QuickSwitch™ to Access Applications
&nbsp3.5 Adding the Current Application
&nbsp3.6 Memory Card Options
4 Version History



Note: All colored screen shots in this manual were taken with the program running on a color-enabled handheld. These images will appear without color on other Palm Powered™ handhelds.


1 Welcome
QuickSwitch™ enables you to activate applications with a tap of a button, giving you fast access to frequently used applications.


1.1 Included Files
Included in this archive are the following packages:


Readme.txt
This short file contains information on registration, ordering the software, and the license agreement.


QuickSwitch.prc
This is the software package that you need to install on your Palm organizer.


Manual Folder
This folder contains both a text and html version of the user's manual, as well as an images folder which contains the graphics for the html manual. To use the html manual, open it using any web browser. The text manual can be opened by any word processor.


License.txt
This file contains the software license agreement. Please read this before using the software. By installing, copying, or otherwise using this software, you agree to be bound by the terms of the license agreement.


Order.html
This document provides a link to our web site to order the software. To use this link, first open Order.html though a wed browser while connected to the internet. Tap the link, and you will be taken to our web site.


1.2 System Requirements
Please refer to the QuickSwitch product page at http://www.standalone.com/palmos/ for any updates to the list of supported Palm Powered™ devices. Throughout this manual, Palm Powered™ device is used to refer to all of these units.

This version of QuickSwitch™ has been tested on all Palm OS devices running OS 3.1 or later, including the HandEra 330, and the Sony Clie™ family of devices.




1.3 Registering QuickSwitch™
QuickSwitch™ is demoware, and costs $15.00


Stand Alone, Inc.'s software is called 'demoware', which means that we allow our users to try our software, fully functional, for 30 days. After 30 days, our software expires and becomes disabled until you register it. In order to register our software, you must purchase it. However, once you purchase our software, the lifetime registration allows you free upgrades to any future version of the software.


1.3.1 How to Register
There are several ways you may order your registration code from us.
You can order online at www.standalone.com, using our shopping cart. Please Note: Our Shopping Cart requires that you use a current browser, such as Internet Explorer 4.5 or better, due to security precautions.
Fax us at 773-477-2579
Call us during our business hours of Mon-Fri 9am-5pm CST at 773-477-2492.
Email us at sales@standalone.com


1.3.2 Necessary Information
Please have the following information ready when you contact us: your Palm User Name, your Palm Serial Number, and the Program Name


1.3.3 Entering the Registration Code
You can enter your registration code by one of two ways:


If your program has expired, simply enter into the program that you have registered and then tap the Enter Registration Code or Enter Password button on your screen. Then enter in the registration code.


If your program has not expired, then you must go into the program and then tap on your Menu button. The Menu button is located on your graffiti pad. Then tap on Option at the top of the screen. Finally, tap on Enter Registration Code or Enter Password and enter your registration code.


If you have any questions about registration or our registration policy, please feel free to email us at sales@standalone.com.


1.4 Contacting Stand Alone Inc.
There are several ways to get in touch with us here at Stand Alone, Inc. Email is the preferred form of communication. If you have any questions, comments, suggestions or compliments, please do not hesitate to contact us through any of the methods listed below.


1.4.1 Business Hours
Stand Alone is open from 9 AM to 5 PM Monday to Friday. We are closed on Saturday and Sunday. These times are CST and GMT -6.


1.4.2 Email
Internet: info@standalone.com


1.4.3 Phone
Voice: (773) 477-2492
Fax: (773) 477-2579


1.4.4 Regular Mail
Stand Alone, Inc
3862 N. Lincoln, Floor 2
Chicago IL, 60613
USA


1.4.5 World Wide Web
http://www.standalone.com


1.5 Reporting Problems
If you find a problem in our software, it would be helpful if you reported it to us. To report a problem, please email us with Problem Report Request in the subject line. The email should include the following information: the type of Palm device you are using (i.e. Palm IIIx), the software name and version number (i.e. QuickSwitch™ v1.5), the error message, a brief description of how we can recreate the error, and your name and email address so we can contact you when the bug has be fixed


When reporting problems, it is best to email us, rather than calling, so that the programmers have a written record of the information they need to solve the problem.


2 Installing QuickSwitch™
When you first install QuickSwitch™, follow the normal procedure for installing any third party software for your Palm Powered™ handheld. These instructions can be found in your handheld user manual.

If you are updating from a version of QuickSwitch™ older than v1.2, you'll need to delete it before installing the new version. To do this, first go into the application and disable it (unchecking the "Enable QuickSwitch" checkbox), then delete it via the built in Application Launcher. You can then install and use the new version.


3 Using QuickSwitch™
This section of the manual explains how to use QuickSwitch™.


3.1 QuickSwitch™ Basics
The basics of QuickSwitch™ are simple. You can assign multiple applications to each of the four hardware buttons located below the Graffiti® writing area. If you press a button once it is configured, your handheld will cycle through all of the applications assigned to it. You may also press and hold the button to popup a menu of all configured applications.


3.2 Configuring QuickSwitch™ Buttons
After QuickSwitch™ is installed, the buttons must be configured to operate correctly. From the launcher, tap the QuickSwitch™ icon to launch the application. The main window is displayed.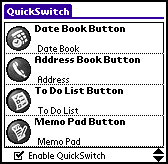 In the main window, the five buttons available for customization are displayed. Below each button's name is a list of the applications assigned to it. To configure a particular button, tap within the rectangle containing its icon. If a button name is drawn in bold faced type, that button is enabled, if drawn in plain text, it's disabled.(For information on enabled vs. disabled buttons, see Disabling a Button).

The Button Details window is displayed.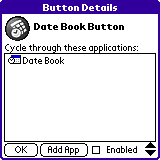 3.2.1 Adding Applications
In the Button Details window, a list is displayed containing the applications assigned to the selected button. To add an application to the list, tap the Add Application button.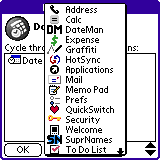 A popup list of all applications installed on your handheld will appear. Select one to add it to the list.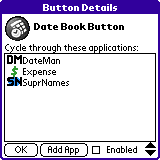 In this diagram, three applications have been assigned to the Date Book button.

3.2.2 Removing Applications
To remove an application, tap on its name in the list. A popup list is displayed. Select Remove from Sequence to remove the name from the list. You can select one of the other two options to change its position in the list.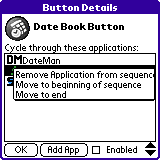 3.2.3 Reordering Applications
You may also change the position of an item in the list by tapping on the name and dragging it to the desired position.

3.2.4 Disabling a button
Certain other applications may also make use of the hard buttons. For example, normally holding down the Address Book button will automatically launch the Address Book and beam your business card. If you'd like to maintain compatibility with certain applications, you can completely remove QuickSwitch functionality from a button by unchecking the "Enabled" checkbox. If you do this, then pressing or holding the given button down will NOT access QuickSwitch.
3.2.5 Confirming your changes
Tap the OK button to confirm changes made in a button list.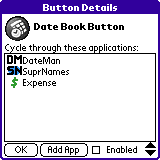 3.3 Enabling/Disabling QuickSwitch™
Use the check box in the QuickSwitch™ main window to enable/disable the program. When the check box is unchecked, QuickSwitch™ will save the current configuration, but the program's switching functions will be inoperable.To re-activate these functions, just re-enter the application and check the box.To enable or disable a particular button, see Disabling a Button.

3.4 Using QuickSwitch™ to Access Applications
After the buttons have been configured correctly, exit QuickSwitch™ by tapping the Home icon. Press any configured button. The first press will open the first application on that button's QuickSwitch™ list. Press it again, and the second application will be opened. Subsequent button presses will cycle through the remaining applications, returning to the first on the list at the end of the cycle. Pressing and holding a configured button will display a popup list of all the applications available for that button. Select an item from the popup list to open it directly.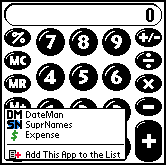 3.5 Adding the Current Application
To add the current application to a button, press and hold the selected button to display a popup menu with the current list of applications. Select Add This App to the List. The current application will be added to the end of the selected button list.

3.6 Memory Card Options
QuickSwitch™ supports memory cards on newer handhelds running Palm OS 4.0® (such as the Palm m500 and m505 devices). Applications installed on the memory cards will be available to add to each button. When you select a card-based application, it will be launched as normal.

4 Version History
1.0 5/9/2001
First Public Release
1.1 [Not released, internal testing only]
Added support for memory cards
1.2 10/1/2001
Added support for HandEra 330 and Sony Clie series.
Improved compatibility with certain HackMaster Hacks.
1.21 10/9/2001
Added ability to disable certain buttons.
QuickSwitch is a trademark of Stand Alone, Inc.
Palm OS, Graffiti, and HotSync are registered trademarks of Palm, Inc.
Palm Powered is a trademark of Palm, Inc.
Sony Clie is a trademark of Sony Corporation.
HandEra and HandEra 330 are trademarks of HandEra, Inc.