NRButtons for Palm OS
---
Select Your System
Pick your system to see if it's compatible with this program!
Manual
Need additional information? Check out the NRButtons for Palm OS manual!
"This is one of my must have apps for the NR70x series"
-- Brian Emick, ClieWorld Magazine
Please note: Currently, NR Buttons does NOT work under Palm OS 5.0, and, consequently, does not function on the Sony NX60 and NX70 devices. We are working on this problem, and will post a new version of the software when it's available. We do not have a release date at this time.
NR Buttons allows you to pull up any application at any time on your Sony Clie NR70 series handheld!

Designed and written specifically for the Sony Clie NR70 series
Adds up to seven buttons to the lower button bar
Quickly access all your apps with just one tap
Allows more efficient use in 'tablet' mode
Full High Resolution Plus compatability
New Features in v.1.1:
NR Access button now color coordinated with the rest of the button bar
4 additional button 'slots' are available
Scroll up and Scroll down are now available as buttons
A scroll bar is now present in the configuration screen
Fixed incompatibilities with Address Book, Silver Screen, and others
No longer requires HiRes assist to be enabled
The NR Buttons interface at a glance: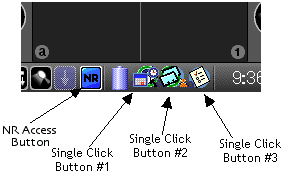 Release versions
v.1.21

- Current release version. Released on

July 08, 2003

. This version includes minor tweaks.

v.1.1

- Released on

July 26, 2002

. It no longer requires HiRes assist to be enabled

v.1.0

- Released on

July 22, 2002

. Initial release version - released 07/22/02
---